One-Horse Field
One Horse Field is a beautiful wildflower meadow, we have been managing since 2005 to encourage a greater diversity of meadow flowers and grassland wildlife. The grassland was part of a larger farm which has a grazing history back to the eighteenth century. The meadow is around two hectares and includes semi-improved and herb-rich grassland with mature hedgerows and scrub. Part of the site is designated as a Site of Importance for Nature Conservation and is adjacent to a Site of Special Scientific Interest.
What to look and listen for …
Look out for the spectacular Wasp Spider between July and October in the long grass where they spin their intricate webs (we keep the paths mown so you can avoid the insects if you prefer!). In the summer the meadow is alive with darting dragonflies and butterflies, enjoying meadow flowers such as Ox-eye Daisy, Yarrow, Buttercup and Clover. Later in the summer look for the delicate spiral of white flowers which is the Autumn Ladies Tresses orchid. You might find slow worms – the site is used for rehoming displaced and rescued individuals – that's why we mow our meadow very late each year,
If you venture to the viewpoint, you will get a brilliant view of the mainland stretching from left to right, Headon Warren, Totland pier, Old Harry Rocks (far across in the Swanage direction) Poole Harbour, Bournemouth, Keyhaven, New Forest and ending with Hurst Castle.
Listen for Yellow Rattle which is yellow and rattles! You will find it in the meadow, but it's the seedpods that rattle. The seagulls are often involved in noisy exchanges with crows and rooks living on the cliff side, and hear the sounds of the sea – the waves and buoys.
… and smell and touch
The gorse smells of coconut in the spring, and blackberries smell and look delicious in the autumn.
Find the poem etched into the horseshoe seat, and feel the texture of our acorn seats, now more use as bird baths! In the autumn meadow is full of seedheads. Feel the sea wind on your face at the viewpoint.
Nature at home and activities on site
We have produced a super Colouring Sheet for you to download and complete at home. We have also produced an I Spy Sheet and Map for you to print at home, or download to your phone and take to the site. And become a Bug Bunch Ranger. All these activities and resources can be found here.
Managing the site
This field is of particular importance for biodiversity because of the proximity of semi-improved grassland to wetland. This situation benefits species such as dragonflies, which need meadows for feeding and ponds for breeding. The grassland is of high nature conservation interest that may be lost if the succession to woodland is not impeded. This is done by the removal of annual growth by mowing (with the removal of the cuttings) half a hectare per year on an annual rotation. This will reduce nutrient build up in the soils and prevent the establishment of scrub and maintaining the current nutrient poor sward with its high biodiversity value.
Our slow worm refuge has been built to house a large existing population but is also useful for re-homing displaced and rescued individuals from elsewhere. We mow the paths during the summer to keep them clear and encourage exploring of the field.
How to get there
On foot/By bike – The site can be accessed from Hurst Point View via public footpath T1. There are no site gates. The main entrances are at the north and south ends of the site, from footpath T1. The cycle racks are at the south entrance.
By bus – Coastguard Cottages Stop (Routes 7/12) + 5 min walk. (Bus Timetables)
By Car – There is a free gravel car park on Hurst Point View (halfway down on the left), One Horse Field is behind the car park beside the recreation grounds. Postcode for satnav PO39 0AG
what3words for Hurst Point View entrance ///clubbing.cooking.richest
Access
North entrance: There is a Information Pillar at this point. The site information pillar has a QR code that links to an audible description creating a mind's eye view of the area to allow a visually impaired person to enter with confidence. The information pillar also has a QR code that links to a map and activities. There is also a site map on the Information Pillar. There is also an Interpretation Board detailing the site. It also has a map.
South entrance: There are cycle racks and an Interpretation Board detailing the site. It has a map.
The site consists of mown grass paths and because of this it is not likely to be suitable for most mobility scooters. There are no gates or stiles, however the path is less than 0.8 metres in places and can be overhung by vegetation. For anyone concerned about suitability of access, Footpath T1 may provide the best option. It skirts the east edge of the site and is minimum 1 metre wide with a compacted surface. Much of the meadow can be viewed from here, but there are no seating options or views.
There are no toilets at this site. The nearest public toilets are at Totland Beach or Freshwater village.
We have written an Access Statement or this site. This includes mobility and sensory issues and opportunities. We welcome feedback from users.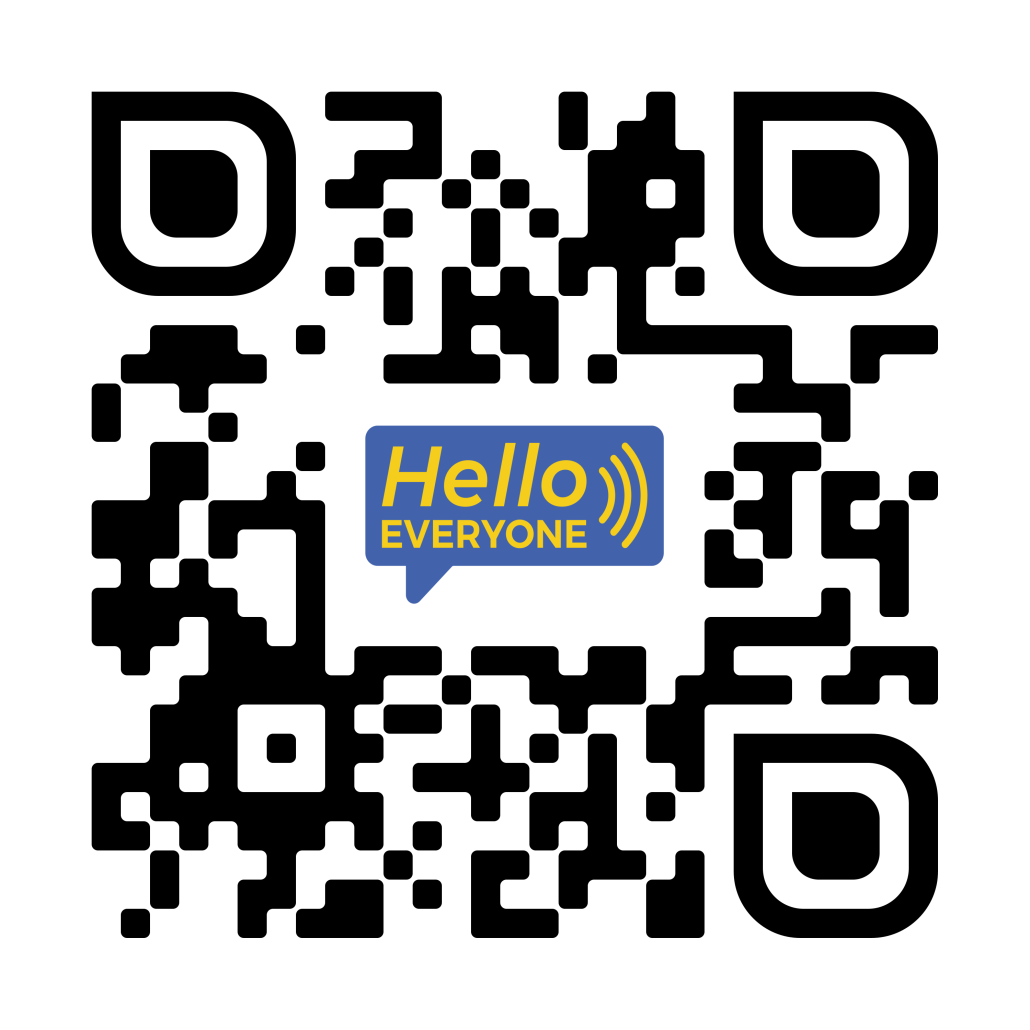 We have produced an audible description creating a mind's eye view of the area to allow a visually impaired person to enter with confidence. It will describe the entrance, the size of the area, where to find further information or help and any major obstacles or features. Information has been produced by visually impaired people ensuring it is useful and accurate. Access the description by scanning the QR code to the left of this text on your phone or tablet, or by clicking here.
Get Involved
There are various ways you can help improve and maintain our sites. We rely on volunteers to help with many tasks on our sites and also need people who are happy to regular visit the site be our "eyes and ears", this means we can respond much quicker to issues. Our shop raises money to support our work and needs a team of volunteers. Or maybe you would like to help us with events. Find out more here.
You can also help by becoming one of our regular supporters. Even giving a few pounds each month can make a real difference, with your donation being invested into site management and improvement work to benefit site visitors and look after our precious wildlife. Sign up here.