Walking & Cycling from Merstone Station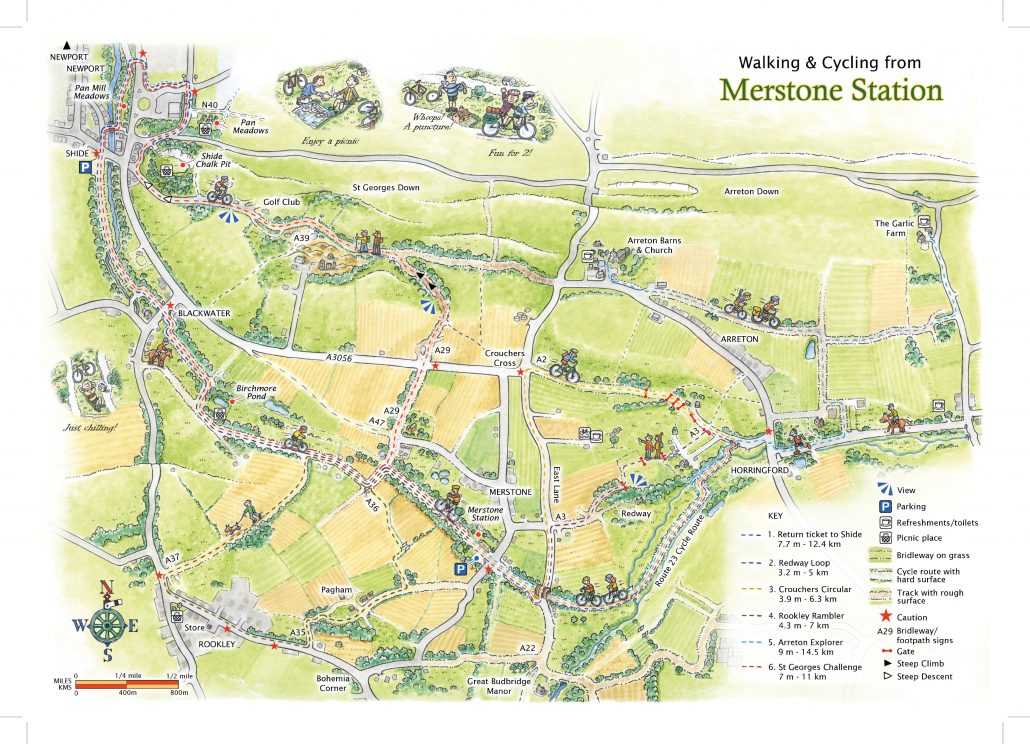 Merstone Station is an ideal place to explore the amazing network of footpaths and bridleways of Arreton Parish and beyond. We have created this downloadable map to help. So walk or cycle to Merstone from Newport, take the bus directly to the station, or take advantage of our free parking, and explore peaceful country paths.
Merstone Station is also a great place to join the Red Squirrel Trail, 32 miles of mostly traffic-free cycling through the heart of the Isle of Wight's beautiful countryside. The trail takes in estuaries, woodland, farmland, download, and a stretch of the Island's fantastic coastline.
The trail makes an ideal two or three day cycling tour taking time to take in the wildlife along the way and visit some of the many attractions, cafes and restaurants along and nearby the trail.
1. Return ticket to Shide.
7.7 m – 12.4 km (Walking / Cycling) EASY PEASY
An out and back route on a level, hard-packed surface. Those with little legs can turn back at Blackwater for a 3.8 m – 6.2 km trip. There are few rough patches with puddles in wet weather. Optional extension to Shide Chalk Pit Local Nature Reserve and Pan Mill Meadows
LOOK OUT FOR: DRAGONFLIES AT BIRCHMORE POND, BLACKWATER TROLL
2. Redway Loop.
3.2 m – 5km (Cycling) MEDIUM DIFFICULTY (Walking) EASY
A circular route, initially heading towards Horringford on hard-packed cycle track and coming back on a section of grass with a slightly rough surface just above Redway.
3. Crouchers Circular.
3.90 – 6.3 km (Cycling) MEDIUM DIFFICULTY (Walking) EASY
A mixed terrain route with cycle track to the old bridge then a section of quiet road to Crouchers Cross and then a bridleway with bumpy grass, returning on gravelly cycle track. There are some gates on this route.
LOOK OUT FOR: HIDDEN VALLEY NORTH OF A2
4. Rookley Rambler.
4.3m – 7 km (Cycling) TRICKY (Walking) EASY
Starting out on smooth cycle track the route then turns onto a bridleway with a rutted and sometimes muddy surface. A section of main road follows with another stretch of farm track some of which is muddy and uneven.
LOOK OUT FOR: ROOKLEY TOPOSCOPE
LOOK OUT FOR:  COMMUNITY ORCHARD IN PAN COUNTRY PARK
5. Arreton Explorer.
9 m – 14.5 km (Cycling) TRICKY (Walking) MEDIUM DIFFICULTY
Smooth cycle track, with occasional gravel patches and heading towards Arreton Barns and the Garlic Farm has some gravelly and muddy bridleway.
LOOK OUT FOR: 12TH CENTURY CHURCH
6. St Georges Challenge.
7 m – 11 km (Walking & Cycling) TRICKY
Some smooth cycle track initially but turning to very steep and stony bridleway up to St Georges Down. The track along the top is rough and gravelly with many large pot holes, water filled in wet weather. There is a very steep descent on a tarmac road heading towards Shide.
The countryside surrounding Merstone Station is perfect for both cyclists and walkers to enjoy. The terrain is varied and this handy guide will help you make the most of your visit.
LOOKOUT FOR : PICNIC SPOT AT SHIDE CHALK PIT LOCAL NATURE RESERVE,
Here are some handy tips for where cyclist and walkers share routes.
When cycling:
• Use the path in a way that is considerate to the comfort and safety of others.
• Travel at a speed appropriate to the conditions and ensure you can stop in time.
• Be courteous and patient with other path users who are moving more slowly than you.
• Ring a bell well in advance if approaching people from behind – however, don't assume people can see or hear you – remember that many people are hard of hearing or visually impaired.
• Slow down as needed when space is limited or if you cannot see clearly ahead.
• Be particularly careful at junctions, bends and any other 'blind spots' where people could appear in front of you without warning
When walking:
• Keep your dog under control which may require a short lead and please clear up after them. Our rangers have to strim those verges!
If you hear a cyclist approach please step to the side of the path to allow them to pass.
And always:
– Take care around horse riders leaving them plenty of room.