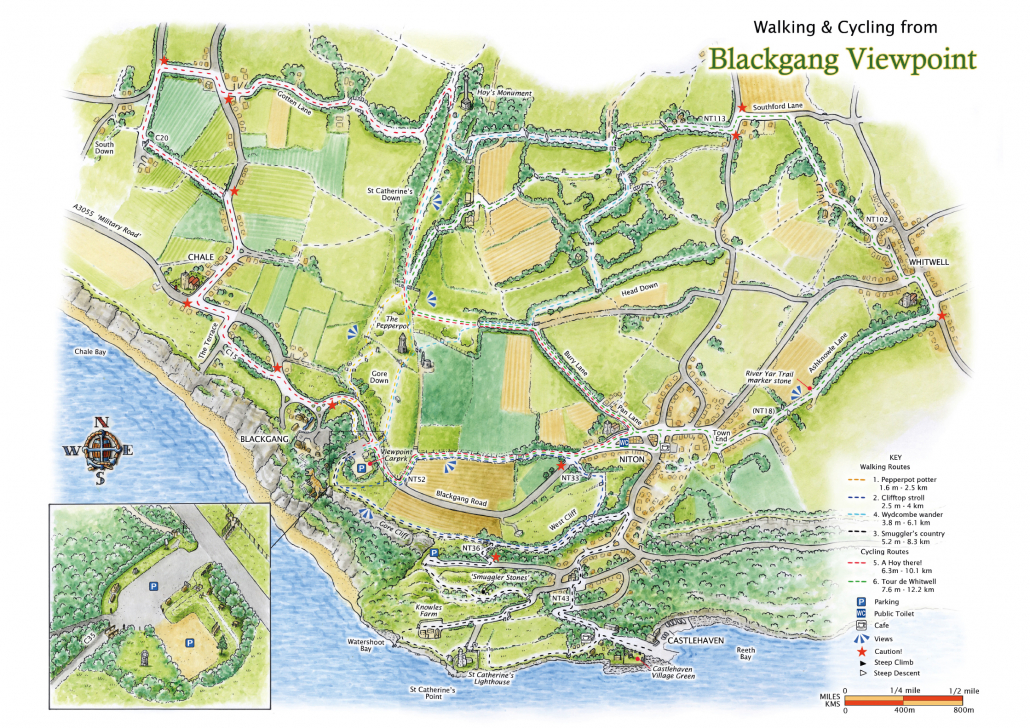 Walks and Cycle Rides
To encourage you to explore the wonderful countryside we have designed four walking and two cycling trails
Do download this map and the appropriate GPX file for all but the shortest trails, to support your expedition, HERE,  as the trails are not always well marked. Please take weather and ground conditions into account before setting off.
The off-road routes cycling routes are on bridleways and not specifically made 'Cycle Tracks', and as such will be uneven in places with steep climbs and descents; they can also become quite muddy in wet weather.
Pepperpot Potter (walk)
1.6 miles
A short walk ascending St Catherine's Hill to the iconic Pepperpot, from which there are magnificent and far reaching views, especially to the South West along the 'back of the Wight' .Grassy underfoot with gentle climbs and some steep descents on the return.
Clifftop Stroll (Walk)
2.5 miles
The route takes the Coastal Path along the top of Gore Cliff with fantastic views out to the English Channel, mostly level before descending near Niton and returning to the Car Park via an ascent up a bridleway, some uneven surfaces.
Wydcombe Wander (Walk)
3.8 miles
A gentle climb up to The Pepperpot this route then takes you into the heart of some unspoilt countryside around the Wydcome area returning along the high ridge of St Catherine's Down. The surfaces are mixed, mostly grass but with some wooded tracks near Wydcombe composed of chunky stones/gravel.
Smugglers Country (Walk)
5.2 miles
A beautiful but challenging route taking in far ranging sea views and a very steep descent through some undulating terrain,  leading to the rocky coast near St Catherine's Lighthouse. Having visited Castle Haven, a renowned smuggling haunt, there are some steep climbing sections taking you back to the clifftop path.
A' Hoy There! (Off-road cycle)
6.3 miles
An off-road route, the initial section of bridleway with fine views over Niton to the east, with some stiff climbs and a variety of surfaces. At the halfway point is the impressive Hoy's Monument, and the return leg takes you through some little used and quiet tracks traversing some delightful countryside.
Tour de Whitwell (off-road cycle)
7.6 miles
A descent into Niton is followed by a spell on the Yar River Trail to Whitwell before heading back towards St Catherine's Hill on some charming lanes and tracks teeming with abundant wildlife. On the return leg there are some stunning views looking north-east into the heart of the Island before a decent, on uneven surfaces, into the quaint village of Niton and a final climb back to the car park.