Merstone Railway Heritage
Merstone station was opened by the Isle of Wight (Newport Junction) Railway on 1stFebruary 1875 on the line between Newport and Sandown. The original station was south of Merstone Lane where the bungalows in Newlands now stand and comprised a single platform, Station Master's house and a siding.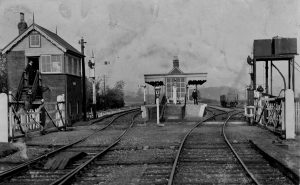 In 1895 the station was rebuilt on the present site and, in anticipation of the opening of the line to Ventnor, via Whitwell, comprised a loop with an island platform and sidings on both sides. A line of pine trees were planted to form a wind break. The Ventnor line opened on 20thJuly 1897.
A subway was built to access the platform but because of persistent flooding was rarely used, passengers using a boarded walkway next to the level crossing. It later became a storage tank for the water tower.
The pine trees that border the car park were planted in 1903 to afford some protection from the wind.
The level crossing over Merstone Lane was the only one on the Island to have double track with the gates worked by a wheel in the signal box.
The trains didn't just carry people – in the 1930s and 40s there are records of it conveying root vegetables and milk – with 19 wagon trains of sugar beet being dispatched daily to Medina Wharf during harvest time.
The Ventnor line closed on 15thSeptember 1952, whilst that between Newport to Sandown line on 6thFebruary 1956 and Merstone station closed.
In 2019 we held a 'Time Team' style dig to see whether we could find remains of the signal box and subway. Mel Dennett filmed our efforts Click here to view.  Mel's father worked in the signal box.
Thank you to our friends at Isle of Wight Steam Railway  for providing us with this information and photographs.
How to get there
On foot/By bike – The Red Squirrel Trail (NCN 23) passes through the site and provides the main access points.
By bus – Newlands Stop (Route 2) is right outside. (Bus Timetables)
By Car – There is a gravel car park on site, parking is currently free of charge. Approx site postcode for satnav PO30 3DQ
Access
The site is level and has a well surfaced cycle track running through it. There is a grass path through the community orchard.
What to look out for
The station platform is still in place, but has been colonised by wildlife! It is now managed as a wildflower meadow, full of colour in spring and summer, attracting lots of bees and butterflies. If you are lucky you may find a basking lizard on the platform or brickwork.
In Spring look out for cowslips on the platform. This was once a common plant in traditional hay meadows, but declined due to loss of habitat and spraying with herbicides. They were used to adorn May Day garlands and was also strewn on church paths for weddings. The name is said to derive from cow pat!
The Pyramidal Orchid is a summer plant and is the Isle of Wight's County Flower – chosen because it abounds in our chalk landscape. It needs a special fungus to be present to help it grow. There's no doubt how it got its name, the pinky-purple flower spike is a pyramid shape.
Our Community Orchard hosts a variety of fruits and if you are here at the right time, please feel free to eat them. There are picnic tables and a barbeque available next to the platform.
At the North end of the site the track becomes wooded and you might manage to spot Red Squirrels if you take a walk or cycle this way. There are a number of circular walks available around the site, see our onsite map.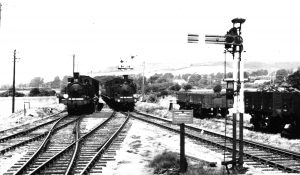 Thanks to The National Lottery Awards for All scheme for their support on this important community project