Blackgang Viewpoint
Blackgang Viewpoint is situated on A3055 Blackgang Road and offers stunning cliff top views of Tennyson Heritage Coast, West Wight and on a clear day, Dorset's Jurassic Coast. It is an ideal place to explore wonderful countryside and join the English Coastal Path, which is soon to transect it.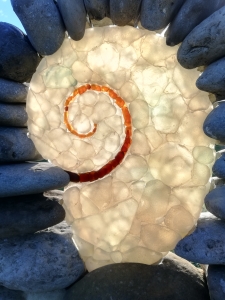 Look out for the wonderful sculpture by local artist Glenn Martin that reflects the natural history of the area and made from reclaimed sea glass.
A short but brisk uphill walk will lead to St Catherine's Oratory, or as it is known locally, 'The Pepperpot'. It also offers fantastic views and is worth the walk. The other side of the car park leads to one of the Isle of Wight's most scenic coastal paths which runs along the top of Gore Cliff. It provides views of beaches, cliff faces and an aerial view of St. Catherine's Lighthouse, which is also accessible from the Coastal Path. The coastal grassland around this site is brimming with birds, butterflies and late summer flowers.
Blackgang Viewpoint and the land surrounding it are all part of the Compton Chine to Steephill Cove Site of Specific Scientific Interest (SSSI). It has been designated thus because of its geology, geomorphology, flora, fauna and fossils.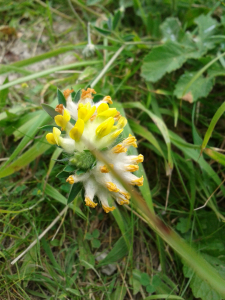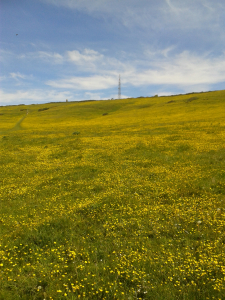 Our site and its immediate surrounds are excellent for spotting birds and butterflies and there is a riot of colour in the coastal grasslands. Looking slightly further you can spot cliffs and chines and off shore rocks. For more about the Natural History of the site and surrounding countryside Click here
The quarry in which Blackgang Viewpoint stands is not old, it was dug in the 1930s to provide material for the road on which you enter the site. The old Undercliff road was one of the most picturesque on the Island but was destroyed by a landslip.
Although now isolated, the area around this site has evidence of ancient human activity. Bronze age round barrows were excavated in the 1920's and when the road was built further evidence of bronze age activity was found.
Today when you look to sea from Blackgang Viewpoint there is very little shipping to be seen except the occasional tanker, bulk carrier or ferry all way offshore. But in centuries past, this wasn't the case. The coastal waters were really busy and inevitably there were many wrecks. There are also many stories of heroic rescues and from the Viewpoint you can spot some of the coastguard cottages. Click here for more about the built history of the site.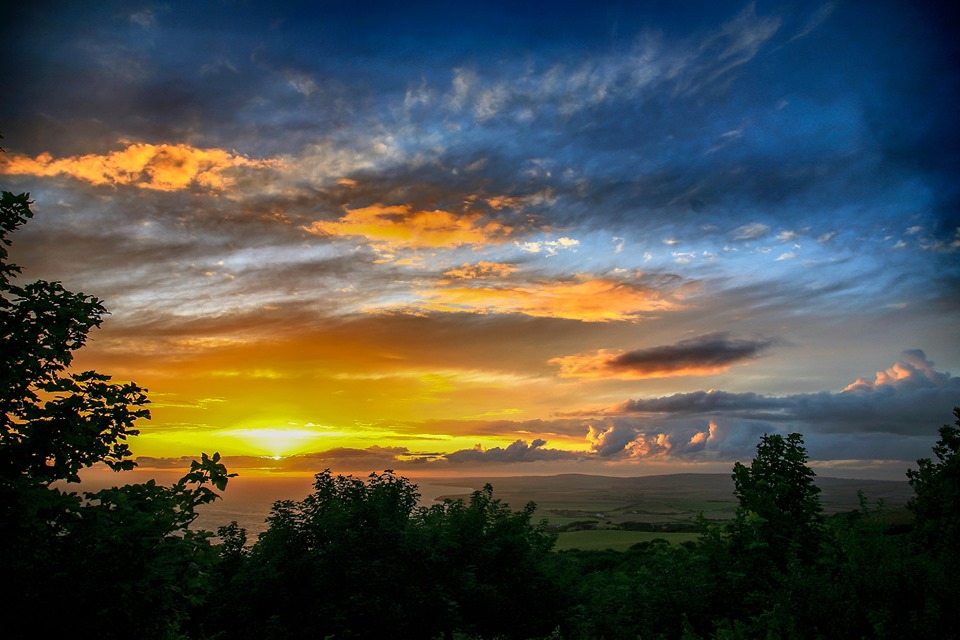 What to look and listen for…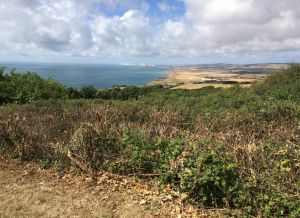 There are fantastic daytime views to Dorset's Jurassic Coast, and at night look for the Milky Way. Walking along the coastal paths on the Gore cliff is an ideal spot for viewing peregrine falcons gliding amongst the jagged rock edges. The birds nest, breed and hunt prey amongst the cliff faces.
From the car park, individual or smaller groups of buzzards can often be seen towering and circling the area, scanning for rodents, rabbits and other small prey which they are able to feast on. Listen for their mewing. A skylarks song can last an hour. Rooks are often seen in and around the car park. They nest in the trees growing below the car park. Butterflies like to bask on the chalk cliff faces.
… and smell and touch
In the spring smell the sweet smell of hawthorn blossom. The tactile sculpture is made of sea glass. The limestone quarry walls within the picnic area and the chalk walls surrounding the car park, offer different sensory experiences
There is a picture board on site which provides an illustrated image of the car park's view. The image provides details & descriptions of what can be seen from this point.
Nature at home and activities on site
We have produced a super Colouring Sheet for you to download and complete at home. We have also produced an I Spy Sheet and Map for you to print at home, or download to your phone and take to the site. And become a Bug Bunch Ranger. All these activities and resources can be found here.
We have created a series of cycle rides and walks that start at Blackgang Viewpoint. You can download these prior to your visit by clicking here.
Managing the site
In 2021 we enhanced the site by adding a new picnic area within a quarry. We have coppiced some of the woodland on the quarry slopes to allow more light to reach the ground – and encourage the growth of ground flora. We have also removed vegetation and exposed the rock in the area surrounding the overflow car park. This has created a rarer more dynamic habitat. The Meadow in the picnic area will receive an annual cut. We coppice woodland on the steep banks to allow light to reach the ground flora. Scrub and vegetation are removed from quarry face to maintain a dynamic habitat suitable for butterflies.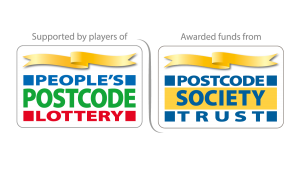 All our recent upgrades have been made possible by grant funding from the Postcode Society Trust, which is a grant-giving charity funded entirely by players of People's Postcode Lottery. We are very grateful for this support.
How to get there
By car / bike: Blackgang viewpoint is located on the A3055 Blackgang Road. The site can be also be accessed by car & bike. Ventnor, PO38 2JB. There are cycle racks on site.
Public Transport: public transport access is good. Buses are available from the Viewpoint Car Park Stop (Route 6) outside the site entrance.(Bus Timetables)
On foot: There are a number of footpaths including the Coastal Path that converge on or near the site.
what3words for site entrance ///magazines.gravitate.panicking
Access
Much of the site is compacted hard core, although there are some potholes. The picnic area is grassed and there may be tripping hazards. Picnic benches in this area are suitable for wheelchair users and people with limited mobility. The upper bank affords the best views and this is accessed via steps but there is also a wheelchair ramp. Most of the site is accessible to people with buggies and mobility scooters. There is ample seating around the site. The sculpture provides a tactile experience.
There are no toilets nearby. The nearest public toilets are in the village of Niton. Here you can also find refreshment opportunities.
We have written an Access Statement for this site. This includes mobility and sensory issues and opportunities. We welcome feedback from users.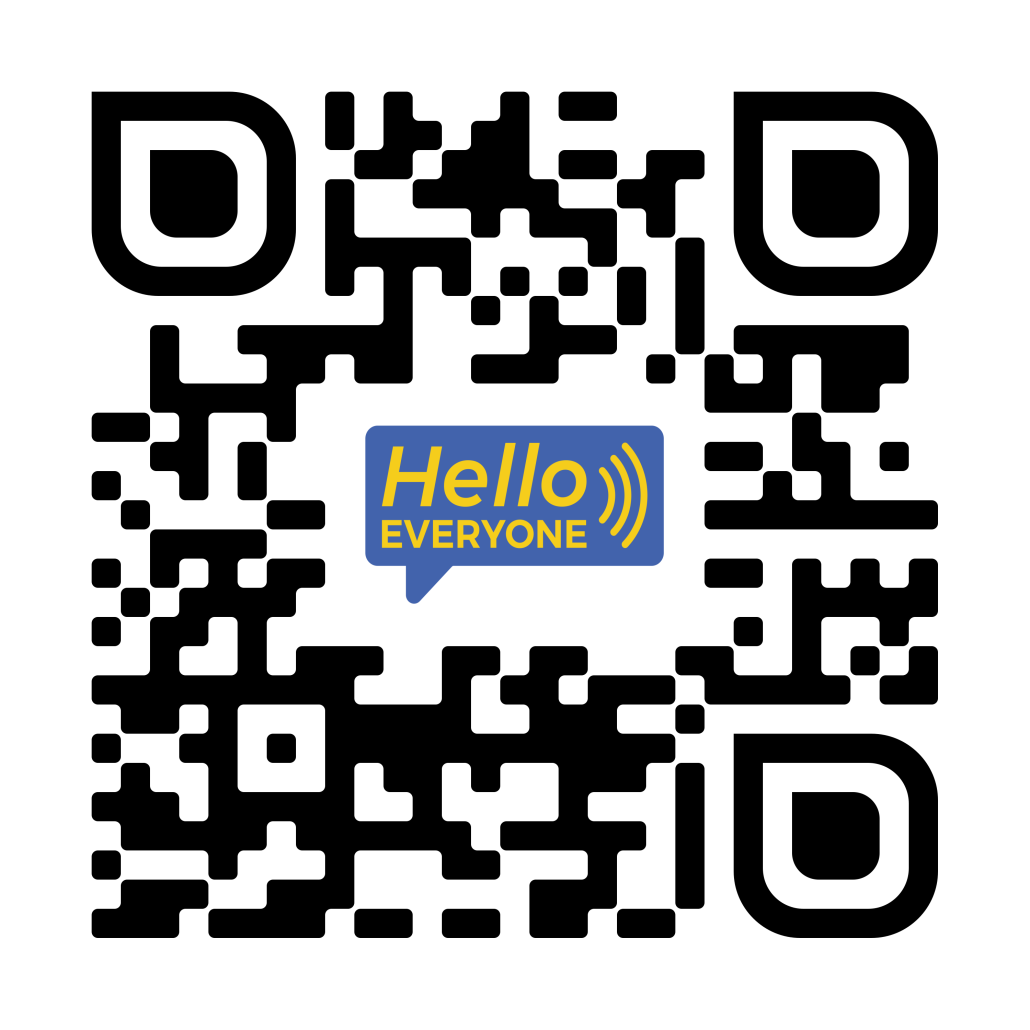 We have produced an audible description creating a mind's eye view of the area to allow a visually impaired person to enter with confidence. It will describe the entrance, the size of the area, where to find further information or help and any major obstacles or features. Information has been produced by visually impaired people ensuring it is useful and accurate. Access the description by scanning the QR code to the left of this text on your phone or tablet, or by clicking here.
Get Involved
There are various ways you can help improve and maintain our sites. We rely on volunteers to help with many tasks on our sites and also need people who are happy to regular visit the site be our "eyes and ears", this means we can respond much quicker to issues. Our shop raises money to support our work and needs a team of volunteers. Or maybe you would like to help us with events. Find out more here.
You can also help by becoming one of our regular supporters. Even giving a few pounds each month can make a real difference, with your donation being invested into site management and improvement work to benefit site visitors and look after our precious wildlife. Sign up here.